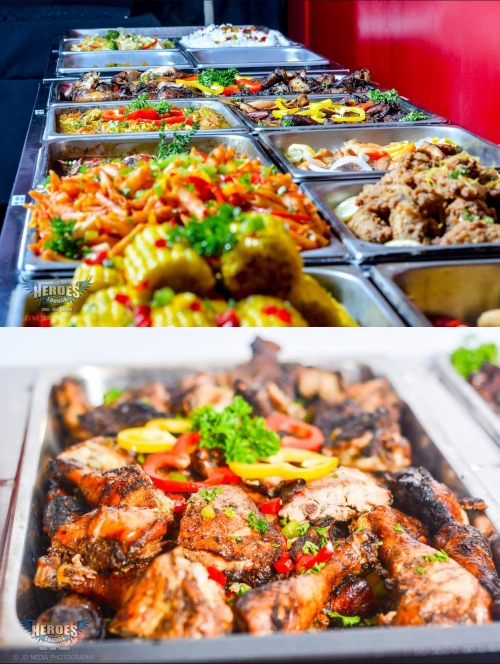 ALWAYS READY & ALL YOU CAN EAT!

"CARIBBEAN LUNCH BUFFET"
MONDAY - FRIDAY 11:00A - 2:30P

MANY FLAVORS AWAIT YOU EVERY WEEKDAY STARTING AT 11A
THIS ONE OF A KIND BUFFET FEATURES OUR FAMOUS JERK CHICKEN AND BROWN STEW WITH MANY MOUTH WATERING ITEMS THAT WILL TANTALIZE YOUR TASTE BUDS SUCH AS CURRY CHICKEN | TRADITIONAL RICE & PEAS | TALAPIA | PEPPER STEAK |
SEASONAL VEGETABLES | RUM CAKE FOR DESSERT AND MORE
AUTHENTIC SELECTIONS TO CHOOSE FROM,
PREPARED BY CHEF KARIM JAMES FROM JAMAICA!

ALSO NICE BLENDS OF TROPICAL BEVERAGES & FULL BAR AVAILABLE. SO PLEASE JOIN US FOR THE BEST CARIBBEAN CUISINE AND LUNCH BUFFET!

YOU DON'T HAVE TO TRAVEL TO THE CARIBBEAN FOR A TROPICAL EXPERIENCE AND WE LOOK FORWARD TO TAKING YOU THERE!

WE WILL RE-OPEN EVERYDAY AFTER LUNCH AT 5PM FOR DINNER.
GOOD FOOD, GOOD VIBES, GOOD PEOPLE!
WE ARE CENTRALLY LOCATED AT
7402 GREENVILLE | DALLAS TX | 75231
INFO CALL 214-750-6800
WWW.HEROESDALLAS.COM
#HEROESEVERYDAY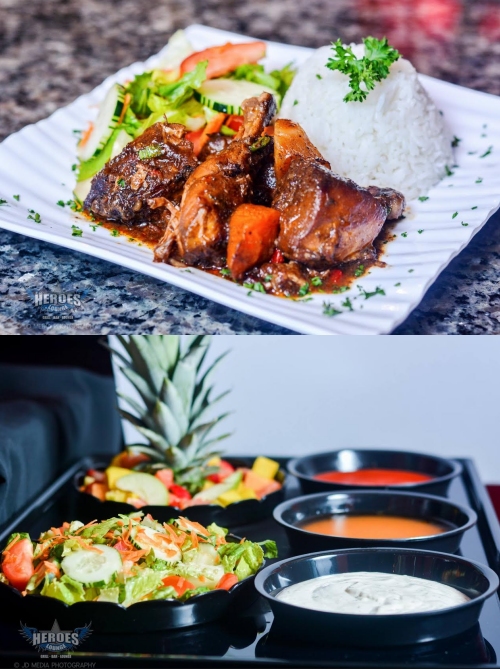 *Photos by JD Video & Media Productions

WE ARE CENTRALLY LOCATED AT
7402 GREENVILLE | DALLAS TX | 75231
INFO CALL 214-750-6800
WWW.HEROESDALLAS.COM
#HEROESEVERYDAY